WELCOME!I ALLOW "you" TO UNRAVEL AS WE PLAY... MY MOST FAVORITE OF PLAY IS: FOOT WORSHIP AND FOOT PLAY. MY FEET HAVE NEVER LET ME DOWN.MY LOCATION IS IN NORTHERN, NEW JERSEY. IT IS PRIVATE, DISCREET AND SAFE. MY SESSIONS ARE FOR YOU TO EXPLORE YOUR HIDDEN DESIRES AND WISHES, BEING NEW FANTASIES, UNUSUAL ONES, OR OLD ONES. I CAN MAKE THOSE TABOO DREAMS COME TRUE!I AM STRICTLY BY ADVANCE APPOINTMENT ONLY.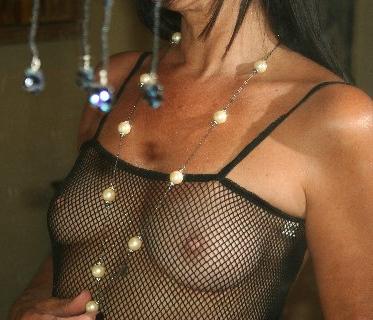 HERE IS WHAT I ENJOY MOST: ALL FORMS OF SENSUAL BONDAGE AND DOMINATION, BOOT, HIGH HEELS, AND FOOT WORSHIP... BODY WORSHIP, GOOD OLD FASHION BAD BOY DISCIPLINE, OVER THE KNEE SPANKING, CANDLE WAXING, NIPPLE PLAY, EXTREME NIPPLE PLAY, QUEENING, SISSY TRAINING, STRAP ON PLAY, NURSE PATIENT ROLE PLAY, TEASE AND DENIAL. I ALSO THRIVE ON TEACHER STUDENT AND STEPMOM ROLE PLAY. THE MORE CREATIVE THE ROLE PLAY, THE BETTER. I ENJOY DOMESTIC DISCIPLINE. I DO NOT HAVE A DUNGEON, I DO HAVE A CREATIVE PLAY SPACE WITH MANY EROTIC ACCESSORIES.I LOVE TO ADMINISTER A SPANKING, STARTING WITH MY BARE HANDS, SO I CAN FEELTOUCH YOUR CHEEKS AS THEY HEAT UP...MOVING TO A BRUSH, A PADDLE, AND MANY OTHER NAUGHTY IMPLEMENTS.  LIGHT, HEAVY TO VERY HEAVY NIPPLE PLAY IS ANOTHER FAVE. SO EROTIC AND SENSUAL. CANING IS A FAVORITE. SO IS HYPNO PLAY... THIS BEING SAID, I AM USUALLY OPEN TO BEING FLEXIBLE WITH PLAY AND LEARNING AS WELL AS TEACHING. THERE IS ALWAYS ROOM FOR EXPERIMENTING WHEN TRUST IS IN PLACE. IF YOU GO WAY BACK TO YOUR CHILDHOOD OR YOUR TEENS WHEN MOST OF THESE FANTASIES STARTED - YOU DON`T IMAGINE YOURSELF IN A DUNGEON HOWEVER, YOU DO IMAGINE YOURSELF IN A MORE DOMESTIC SETTING...NOW DON`T you?
I DO NOT PRACTICE HEAVY,HARSH CORPORAL PUNISHMENT, BROWN OR RUBY SHOWERS, ANY TYPE OF BLOOD PLAY OR ENEMAS. PLEASE BE RESPECTFUL AND DISCREET, COME IN NICE AND CLEAN AND READY TO ESCAPE MENTALLY AND PHYSICALLY.TRIBUTE FOR THE ONE HOUR SESSION IS $200, I DO NOT ACCEPT CREDIT CARDS OR CHECKS. DO NOT ASK TO MEET ME PRIOR FOR A DRINK, DO NOT ASK TO BUY ME DINNER OR DATE ME. DO NOT ASK TO BECOME MY PERSONAL SLAVE.